SHOTLINK BACKGROUND
---
The ShotLink System is a revolutionary platform for collecting and disseminating scoring and statistical data on every shot by every player in real-time. The vision of the system is to
"Turn data into information, information into knowledge, and knowledge into entertainment."
---
HISTORY
The TOUR implemented its first electronic scoreboard system in 1983. This initial program provided 19 electronic scoreboards on-site at each PGA TOUR event. The system was supported by a proprietary data collection device and two mini-computers.
The scoreboard system was upgraded in 1987 to use a wireless device for data collection and an official record keeping system was introduced at the tournament site to record the scoring for historical purposes.
In 1992 we extended the system from a scoreboard system to a complete scoring system. This system leveraged the data collection capabilities of the scoreboard system and provided inquiry and analysis computers in 60 locations including hospitality, media, and broadcast locations. The scoring system also provided an automated interface to the broadcasters' graphics equipment.
In 1999 an analysis of the scoring system was conducted to determine a strategy for the future. The analysis concluded that the existing system should be replaced by a more capable and sophisticated system. This system would become known as ShotLink.
---
DEFICIENCIES OF THE PREVIOUS SYSTEM:
An ineffective process for data collection – data was recorded on paper by walking scorers and then keyed at the end of each hole by a green side operator. This contributed to errors and a less than timely operation.
The technology supporting the system was outdated and needed to be replaced.
The operation was not capable of supporting the collection of additional data.
---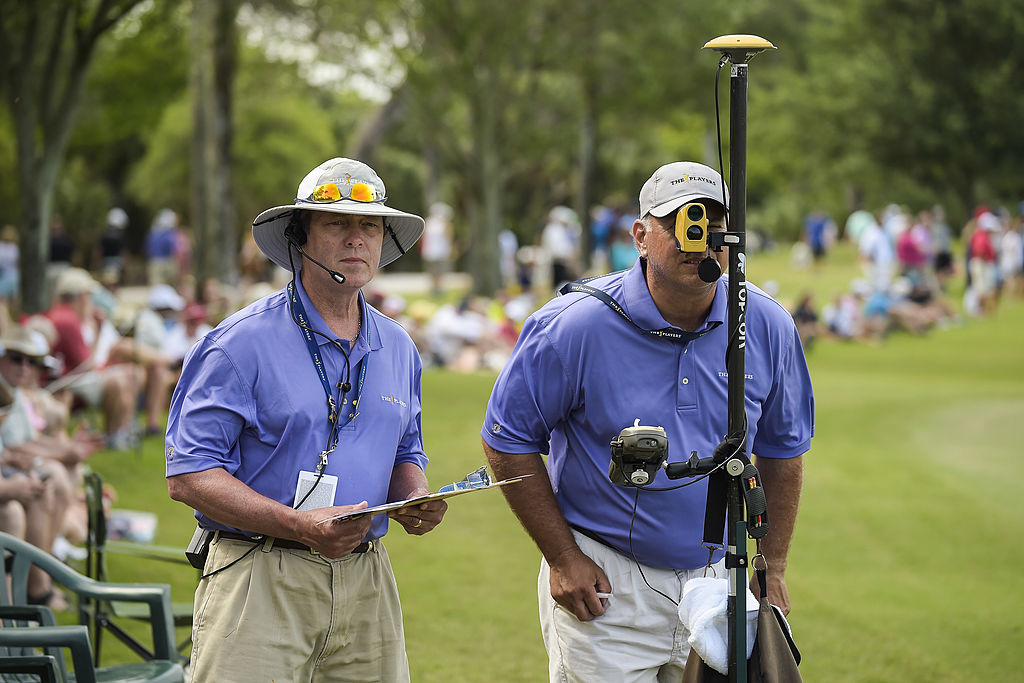 CDW and the PGA TOUR



In 2008 CDW became the Official Technology Partner of the PGA TOUR and Champions Tour establishing a five-year integrated marketing and business partnership. CDW powers ShotLink with state of the art technology and guidance regarding the use of that technology. CDW specialists are leveraged to help solve specific technology problems as well as to offer pro-active advice regarding the future technology footprint for ShotLink.
---
HOW DOES SHOTLINK WORK?
Each golf course is mapped prior to the event so a digital image of each hole is used as background information in order to calculate exact locations and distances between any two coordinates (e.g. tee box and the player's first shot or the shot location and the location of the hole).
The ShotLink system is operated by a small staff of PGA TOUR employees and a volunteer workforce each week. It normally takes approximately 350 volunteers per event to score the golf tournament. This equates to approximately three man years of effort (between staff and volunteers). The annual ShotLink volunteer count on the PGA TOUR is approximately 10,000!
---
HOW IS SHOTLINK USED?
The ShotLink system operates on the PGA TOUR, Champions TOUR, and Korn Ferry TOUR (approximately 93 events each year). ShotLink provides data to various sources:
On-site television broadcast partners (GOLF Channel, CBS , NBC) – Over 2,500 executions per year hit the air due to ShotLink that would not otherwise be possible
International Broadcast partners
PGATOUR.COM
Studio shows (Golf Central, Inside the PGA TOUR, etc)
Players, Coaches and Caddies
Print media
Mobile devices (available on PGATOUR.COM),
On-site partners providing fan enhancements including Video boards, kiosks and multi-media solutions
Over 50 additional clients of the TOUR
Golf course architects who review ShotLink data when evaluating course changes